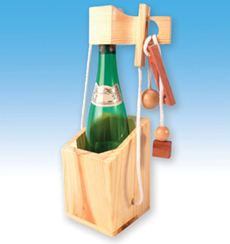 I'm thirsty , get me out of here!
A wine bottle puzzle designed to frustrate your host! The next time you're invited to a friend's dinner party, why not take along your bottle of wine locked up in this fantastic puzzle? But how to release it, should you push the ball through, pass the rope over, or is it the block you should concentrate on? An excellent ice-breaker!
Why not try it with an expensive bottle of olive oil or flavoured vinegar for a gift with a twist?
Note: The wine is not included with the puzzle.