Symmetry III - metal sculpture puzzle hand finished and imported from America (this puzzle normally takes several weeks to be delivered).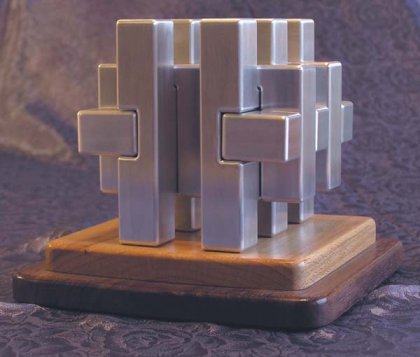 When fully assembled, Symmetry III forms a 4" architectural metal cube weighing 3.5+ pounds! This is a limited edition; each sculpture is dated and numbered. A certificate of authenticity, the special key for the locking mechanism and complete assembly information are included with each sculpture. Symmetry III comes ready to assemble!
Symmetry III on 2 Step Base
(standard version 4" x 4" x 4" and 3.5 pounds)
Symmetry III offers a very pleasing architectural appearance. This sculpture is designed with eight interlocking elements made from aluminum. Included in the design is a locking mechanism that keeps this sculpture intact when picked up.
The list price on Symmetry III is £380. The sculpture can be acquired with a 3 step walnut and maple wood base that costs an additional £40. Shipping boxes have an individual compartment for each piece to prevent any damage during shipping.
Further pictures can be found below: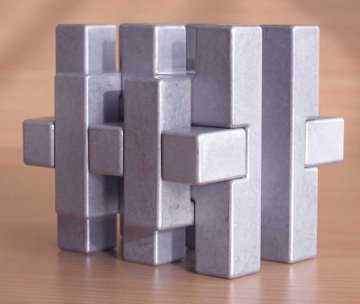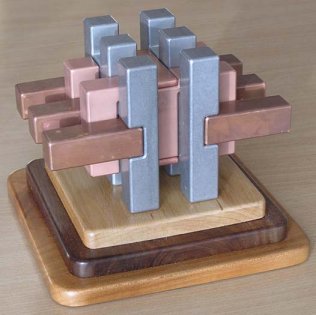 Symmetry III pictured with no base
(standard version 4" x 4" x 4" and 3.5 pounds)
Symmetry III on 3 Step Base
(modified version with copper plating and patina 4" x 6.5" x 4" and 4 pounds)