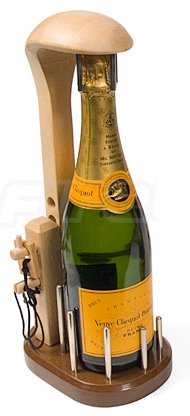 Don't Break The Bottle (The Press)
Don't Break The Bottle (The Press) IQ024
A wine bottle puzzle designed to frustrate your host! The next time you're invited to a friend's dinner party, why not take along your bottle of wine locked up in this fantastic puzzle? An excellent ice-breaker!
Fits opened or sealed standard liquor, liqueur, high neck beer and champagne bottles (1.5" wide at the neck, 3.25" at the base and 13.25" in height maximum).
Note: The wine is not included with the puzzle.
Includes 6 wooden puzzle pieces, 1 metal lock and key and instructions.
Box size 14 " x 5" x 7"

Why not try this other interesting wine gift 'The Coaster' which is a new puzzle and will fit small wine glasses.